FAQs
Which hammocks will fit in my new hammock mount?
---
We recommend Thermarest, ENO, or any other hammock designed for about a 9.5 ft mounting width. Any hammocks that are shorter or longer will need to be modified to ensure the ideal hanging geometry. We are product to sell the Thermarest Slacker hammocks in both single and double sizes in our store.
---
Will my hammock mount work with hammocks longer than 114"?
---
Yes; however, the hammock will droop closer to the ground and the hammock geometry will not be ideal, especially if you are trying to sleep in the hammock. We are looking into manufacturing some arm extensions for this particular application, so keep your eyes peeled for updates!
---
Can the hammock mount hold more than one person?
---
Absolutely! You can put as many people as you wish in your hammock, just as long as you stay within the 300lb weight limit.
---
Can a rainfly be used with the hammock mount?
---
Yes! A tarp or rainfly can be attached directly to the Hammock Mount or there are holes in the end of each arm which extensions can be installed to raise the rainfly for more clearance. Here are a couple of examples of the hammock mount being used with a rainfly : Rainfly and Bug Net; Rainfly
---
Will the hammock mount fit the make and model of my vehicle?
---
The Hammock Mount will fit into any 2" (Class III or IV) receiver; however, we are unable to determine if (or which) Hammock Mount will work with your specific vehicle due to the variation in vehicle bumpers, hitches, etc… If you have concerns about this working with your hitch, also check out our Tire Stand accesory to attach it to any wheel on your vehicle!
---
Can a bugnet be used with the hammock mount?
---
bzzzzzzz…Yes! It's hard to relax if you are surrounded by bugs! We recommend the Thermarest Bug Shelter since it is designed to attach to the hammock carabiners. These are for sale in our store. Here is an example of the Thermarest Bug Shelter in use on a hammock mount. And here is an example of another bugnet in use on a hammock mount
---
Will this product clear my tailgate, rear hatch, trunk...etc?
---
We are unable to determine the particular fitment on each vehicle configuration; however, we do offer the Extended Hammock Mount for improved adjustability. The extended version offers up to an additional 6" of clearance. If you anticipate requiring a longer extension (tailgate down scenario) we recommend a Standard Hammock Mount coupled with a generic hitch extension that can be purchased in the length you need.
---
What type of hitch will the hammock mount fit?
---
The Hammock Mount will fit into any 2" (Class III or IV) receiver. It can also fit into Class II and V with adapters (see manufacturer hitch ratings) If you have European type hitch, you may need an adapter to use the Hammock Mount. Some of our customers have been able to use an adapter like the UKUS1 found here; however, we do not have any experience with these adapters so cannot personally guarantee that this will work.
---
Can I leave my hammock mount in the hitch while driving?
---
Yes! We encourage you to leave it in your hitch during your adventures. The goal is hammocking convenience, after all! However, we do recommend removing and storing products in a cool, dry location when not planning to use. Exposure to moisture, rain, and especially salt will expedite corrosion.
---
What is your return policy?
---
Due to the weight of the products, the associated shipping costs, and the risk of damage if not packaged properly, we do not offer convenience returns. If there are any problems with or damage to your new product, however, we will be happy to make things right. Please contact us at contact@mcleanmetalworksmfg.com
---
What is the warranty?
---
If you have any issues with your McLean Metalworks products, we will be happy to make things right. Our products have been out in the wild for years now without issue and we are confident that you will love yours too.
---
Can I get a discount?
---
Every day we get questions about discounted and free products. We are a small US manufacturer and we don't have huge margins like many of the other import and mass manufacturing based companies. We pride ourselves in providing a high quality product at a good price, every day, and as such, are usually unable to offer discounts.
---
Will you ship outside of the US?
---
We love our international customers! Please message us through the website or send us an email at sales@mcleanmetalworksmfg.com for a quote. International shipping is usually between $150 and $300, depending on the location.
---
How easy is the hammock mount setup?
---
We have designed this product to enable you to Hammock Anywhere in the most convenient way possible. Most of our customers can go from parked to hammocking in under a minute. Check out this setup video if you don't believe us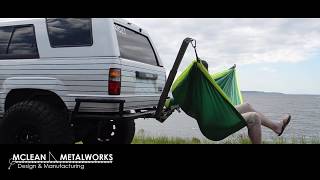 .
---
Where can I see the hammock mount in action?
---
We love interacting with our customers via social media and through our website. We are often sharing both our own and our customers' adventures on social media. Check us out on Instagram and Facebook to stay up to date with the latest hammock mount adventures and new product releases!
---
---