FAQs
Which hammocks will fit in my new hammock mount?
---
Our standard Hammock Mounts are designed for gathered end type camping hammocks with about a 9.5 ft (or 114") mounting width or approximately 11' total length (taught). Any hammocks that are shorter or longer may need slight modification (think adjusting the cordage or adding another carabiner) to ensure the ideal hanging geometry. We are proud to sell custom tailored McLean Metalworks by Hammock Gear hammocks in our store. For a longer hammock, consider the Bare Bones XL model, which is designed for a 125" mounting width. If you are unsure of the mounting width required for your hammock, we recommend you set it up as desired and then measure the distance between the carabiners. Due to the massive array of hammocks on the market, we are not able to verify if specific hammocks will be compatible with our mounts. In our experience, any hammocks that require spreader bars (bridge hammocks, hammock tents, woven hammocks, etc...) will often have interference with the hammock mount arms.
---
What is the weight capacity for the hammock mount? Can two people use it?
---
We have thoroughly analyzed and tested the weight capacity for these hammock mounts. Our guaranteed weight rating of 300 pounds includes a safety factor that ensures your hammock mount will remain in perfect working order for years to come. We cannot be responsible for damage that may occur past this weight rating. And yes, you can put as many people as you wish in your hammock, just as long as you take the above into consideration. Another common solution for multiple persons is to use your Hammock Mount in conjunction with a Tire Stand Kit or Swiftlet Portable Hammock Stand for a bit more personal space.
---
Can a rainfly or bugnet be used with the hammock mount?
---
Yes! A tarp, rainfly, or bugnet can be attached directly to the Hammock Mount or to the awning poles. Here are a couple of examples of the hammock mount being used with a rainfly : Rainfly and Bug Net; Rainfly. And here is an example of another bugnet in use on a hammock mount.
---
Will the Hammock Mount fit my vehicle?
---
The Hammock Mount will fit into any 2" (Class III or IV) receiver. All of our standard models are designed to work with most stock vehicle/hitch configurations. If you have a rear mounted spare tire (Jeep or aftermarket) you will likely need the extended receiver tube, Hitch Extension, or both. Other size hitches- 1-1/4" (Class II) and 2-1/2" or 3" (Class V) will require adapters or sleeves to fit our 2" receivers. Due to the variation in vehicle bumpers, hitches, etc…we are unable to determine exactly which Hammock Mount will work with your specific vehicle. If you have concerns about this working with your hitch, also check out our Tire Stand accessory or Swiftlet ground stand to hammock anywhere! Also check out Instagram for pictures of many different vehicles. If you have European type hitch, you may need an adapter to use the Hammock Mount. Some of our customers have been able to use an adapter like the UKUS1 found here; however, we do not have any experience with these adapters so cannot personally guarantee that this will work.
---
Will this product clear my tailgate, rear hatch, trunk...etc?
---
We are unable to determine the particular fitment on each vehicle configuration; however, we do offer the Extended Receiver Tube for our original Hammock Mount for up to 6 extra inches of clearance. We also manufacture a Hitch Extension for 4"-7" of additional clearance on either Hammock Mount Model. If you anticipate requiring a longer extension (tailgate down scenario) we recommend the standard reciever coupled with a generic hitch extension that can be purchased in the length you need.
---
Can I leave my hammock mount in the hitch while driving?
---
Yes! We encourage you to leave it in your hitch during your adventures. The goal is hammocking convenience, after all! However, we do recommend removing and storing products in a cool, dry location when not planning to use. Exposure to moisture, rain, and especially salt will expedite corrosion.
---
What are your return and warranty policies?
---
Due to the weight of the products, the associated shipping costs, and the risk of damage if not packaged properly, we do not offer convenience returns. If there are any problems with or damage to your new product, however, we will be happy to send replacement parts and make things right. Please contact us at contact@mcleanmetalworksmfg.com
---
Can I get a discount?
---
Here at McLean Metalworks, we try to keep our prices as low as possible everyday by not inflating them for recurring "sales". However, we do occasionally offer sales and will notify customers via our mailing list and social media. We also will have discounted products from time to time, including package deals, limited release or blemished items that are discounted in the online store.
---
Can you ship internationally?
---
Yes! We have recently resumed international shipping. Please be aware that international shipping charges only cover the transit costs and do not cover duties and import fees that may be required by the receiveing country. The shipping estimate at checkout is the most cost effective method we have for international shipping. You are also welcome to arrange a shipment through a parcel forwarding service and we would be happy to ship products to a domestic parcel forwarding location through the standard checkout process.
---
How easy is the hammock mount setup?
---
We have designed this product to enable you to Hammock Anywhere in the most convenient way possible. Most of our customers can go from parked to hammocking in under a minute. Check out this setup video if you don't believe us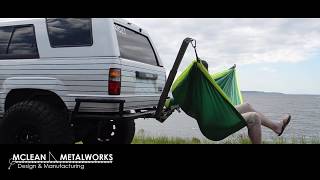 .
---
Where can I see the hammock mount in action?
---
We love interacting with our customers via social media and through our website. We are often sharing both our own and our customers' adventures on social media. Check us out on Instagram and Facebook to stay up to date with the latest hammock mount adventures and new product releases!
---
When will I get my order? (domestic)
---
Our products ship UPS ground from our Bend, OR facility and typically take up to 5 business days to arrive after shipment. We pack and ship all in-stock orders in 1-2 business days and you will receive a notification once the shipping label has been created (typically the following business day). Current stock status will be listed in the beginning of product descriptions. Please see the following map for estimated transit times:
*We can offer expedited shipping through UPS 2nd day air or UPS next day air for an additional cost. Please contact us if you need a quote for expedited shipping services. Please note that these services usually cost 2-4x the rate of our ground shipping cost. *We do not guarantee delivery dates on ground shipping.
---
Are you planning to make any updates to the current models or release a new model of the hammock mount?
---
We are always pursuing improvements to our products, processes, and offerings. We will send updates through our mailing list and social media as these become available.
---
Can I get a different color?
---
Sadly, we are only offering standard colors due to our production volumes and coating types. Please see specific listings for product colors. You are welcome to paint over the existing coatings, but the results may be less than desireable. If you would like your product to be a specific color, we do offer the Bare Bones in a raw metal finish that is intended to be painted/coated however you desire. You could go flourescent pink spray paint, au naturale if you like the iron oxide (rust) look, chrome plated, or even hydrodipped. Possibilities are endless!!
---
---